By Amy Sherif
The US Navy (USN) is adopting a new path, solidifying a strategic move towards Distributed Maritime Operations (DMO) to conduct enduring sea control and power projection missions.  The Navy is shifting into the building and maturing its Overmatch program and providing Joint All-Domain Command and Control (JADC2) like capabilities to fight with dispersed forces rather than a concerted power on a single carrier strike group.  This provides the USN with the advantages of enhanced mobility, survivability, and lethality.  Multiple factors drove the new thrust in the Navy's warfighting strategy.  Today's magnifying threats and technology proliferation give adversaries more access to advanced weapon systems, such as precision-guided munitions, information warfare, and electronic warfare capabilities.  This allows adversaries to locate and identify any military asset; hence, the necessity to fight from a wider variety of Navy platforms.
Over the last few years, the Navy drove an intensive testing program to refine the emerging Distributed Maritime Operations concept that will link crewed and unmanned ships and aircraft to operate in concert.  This shift towards a more integrated yet dispersed force, instead of traditional carrier strike groups, motivates significant changes in operational strategy.  In addition to enhancing the offensive capabilities of existing platforms, unmanned vessels seem to play a critical role in this shift, along with other changes like the types of aircraft carriers, surface combatants, and submarines and their roles while expanding investment away from larger, more expensive platforms in favor of smaller ships capable of generating distributed fires across a vast theatre of operation.  Navy Vice Adm. Phil Sawyer said at the NDIA Expeditionary Warfare Conference on Feb. 2, 2021, that "unmanned platforms will play a significant role, on and below the sea, in support of other assets varying from large weapons batteries to aerial refuelers."
On May 13, 2022, the Navy announced the establishment of a new unmanned vessel division called 'Unmanned Surface Vessel Division 1'.  The primary role of this division is to expand the services' testing and operation of unmanned surface ships in Southern California.
In April 2022, when the Pentagon released a description of the latest weapons to be sent to Ukraine, it included "unmanned coastal defense vessels." Additionally, the US Navy tested four unmanned surface vessels at the Rim of the Pacific 2022 exercise as a step forward in preparation for a program of record for a large USV in 2025.  Among the large number of ships that took part in RIMPAC were four unmanned ships with joint missions alongside traditional manned ships: the large-sized Nomad and Ranger Overlord USVs and the medium-sized Sea Hunter and Sea Hawk.  According to Rear Adm. Casey Moton, the executive program officer for unmanned and small combatants, the USVs showcased reliability with mature autonomy and operational payloads.
An essential capability to achieving DMO is the infrastructure of advanced technologies, including high computing power, artificial intelligence, big data analytics, data storage, cyber capabilities, high level of communication, information sharing, and sound, swift decisions.
Swiftships name has been automatically linked to Unmanned Autonomous Vessels (UAV) as the US Navy selected in 2018the Swiftships' Riley Claire– a 175 feet Fast Supply Vessel (FSV) – for transformation into a Large Unmanned Surface Vessel (LUSV), the first of its kind.  Riley Claire renamed NOMAD; traveled from the Gulf Coast to the US West Coast, a total of 4,421 nautical miles, with 98% of that distance in autonomous mode.  Nomad's autonomous transit allowed to test vessel endurance, autonomous operations, and interoperability of government command, control, communications, computers, and intelligence systems.
Swiftships has developed many configurations for its FSV, not only for autonomy but also for minimally manned or remote operations of the craft.  Swiftships' platforms are highly adaptable, allowing clients to integrate sensors, weaponry, autonomy, and various other technologies aboard their boats at a lower price than other vendors.  When outfitted with missile defense, mission modules, UUV, and UAV spoke, or launching and retrieval capabilities, these relatively medium size vessels can accomplish multiple missions simultaneously, such as surface and underwater warfare.  Swiftships ownership of the designs and IP of these platforms and a seasoned organic engineering department allow for expedited modifications to the platforms to ensure it meets the end user's mission.  Swiftships has been working with the US Navy (N95) divisions to improve its wide range and capability of commercial platforms to offer Multi-Missions USV (MM-USV) to fulfill the US and its Allied Forces responsibilities for a fraction of the cost of conventional naval ships.
In addition to offering proven platforms for autonomous vessel conversions, in 2020, Swiftships was subcontracted by L3Harris to construct the Medium Unmanned Surface Vehicle (MUSV) prototype class with an initial quantity of 9 vessels for the Naval Sea System Command (NAVSEA).  This is the Navy's first program for an unmanned surface vehicle to support the Navy's Distributed Maritime Operations strategy.  The MUSV will provide intelligence, surveillance, and reconnaissance to the fleet while maneuvering autonomously and complying with international Collision Regulations, even in operational environments.  The MUSV program will provide pier-launched, self-deploying, modular, open architecture surface vessels capable of autonomous navigation and mission execution and provide/improve distributed situational awareness and sensing to the battle force.
In February 2022, Swiftships unveiled its 46 feet Challenger, a surface vessel designed for Unmanned missions that combine total situational awareness with functional design and performance using an Autonomous system of clients' choice.  Reaching a top speed of 45+ knots and an endurance of over 40 hours, the Challenger will greatly enhance maritime fleet force protection by identifying and engaging remote targets before they become threats.  The Challenger's proven platform has served in various military and commercial engagements for over 20 years.  It can support human-crewed and unmanned operations complying with the protocol of the NATO Standardization Agreements (STANAG) 4586 and Joint Architecture for Unmanned Systems (JAUS).  The Challenger also fills many gaps in the market, as it features increased endurance and a larger payload.  Its modular multi-mission capability allows missions like mine hunting/neutralization and a strategic strike missile package.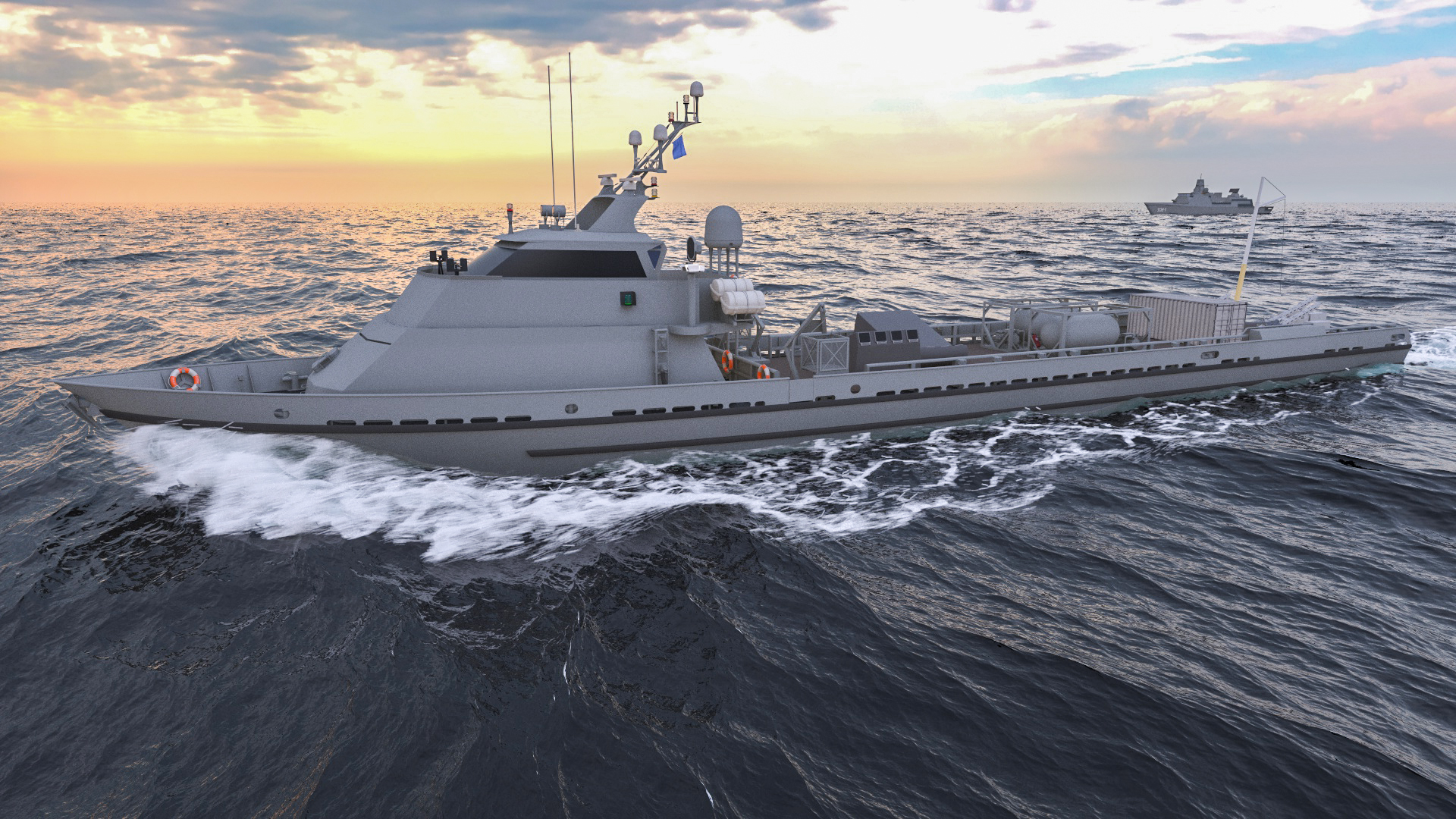 Swiftships has been a strong advocate and incubator of technologies, investing in autonomy over twenty (20) years ago in developing Dynamic Positioning System (DPS) integration with vessels, then carrying that to further Unmanned capabilities.  Swiftships' collaboration with the University of Louisiana at Lafayette (ULL), developed a partial manned/remote-controlled system, aka Anaconda (AN-2), a vessel in 2015, which was the first step in developing an autonomous platform.